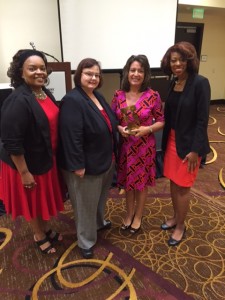 On June 9th, 2015 the Women's Business Enterprise Council – Great Lakes Indiana gave Diana Caldwell, Pearl Pathways CEO and President, the Outstanding Achiever Award. Two months ago, the WBEC held an event recognizing all women owned enterprising and then today it held an event focusing on those businesses run by women in the states of Indiana.. The event was held at the Sheraton Indianapolis Hotel at Keystone Crossings.
The WBEC focuses women own businesses that symbolize demonstrate true leadership. The Outstanding Achiever award is given by the WBEC to those women who inspire and continually provide commitment for economic growth for the community.
Click on this link to find out more about the Outstanding Achiever Award and click here to read the full press release.
Caldwell is pictured above with the staff of the WBEC Great Lakes and its President Michelle Richards.