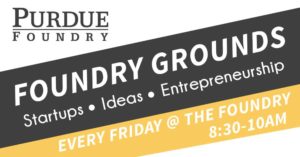 Join Diana Caldwell, President and CEO of Pearl IRB, this Friday, December 1, 2017 at Purdue Foundry as she discusses "The Power of LinkedIn for Life Science Professionals." Foundry Grounds occurs each Friday and involves conversations, presentations & networking focused on startups, ideas & entrepreneurship. Networking begins at 8:30am EST, with Caldwell's discussion running from 9:00 – 10:00. For those who cannot attend in person, you can also tune into the Livestream at 9:00am EST.
Location: Purdue Foundry, 1201 W State St., West Lafayette, IN
Date: Friday, December 1, 2017
Time: 8:30 – 10:00am EST
Registration and Parking: https://www.facebook.com/events/169042020336125/
Livestream link: https://livestream.com/foundry/fg121
About Purdue Foundry: The Purdue Foundry exists to help Purdue students, faculty and local alumni move ideas to the marketplace more quickly. It is a place to transform innovators into entrepreneurs by providing advice on entity formation, ideation, market analysis and business model development. We are focused on helping individuals at Purdue who have business or product ideas and want to turn them into a company. The process and passion for the success of each company is driven by the entrepreneur and while the Foundry provides support, education and additional tools to help each client reach success.